Home
›
General Discussion
Hello Yes Men & Women! :)
We are moving EVERYTHING to a new much better community system so please go register, create your profile and let's build even better TYC community!
You can chat, sell, buy, advertise, create pages, groups, events, use forum and tons more!
URL:
https://techcity.tv/community/
P.S. We are still setting everything up so please bare with us!
P.P.S. Please go and REGISTER, you need to do it because we can't transfer you automatically, the differences between systems are huge so we all need to do it manually, it only takes a few seconds :)
Went parts hunting like Bryan, scored some good stuff!
CoalitionGaming
Posts: 283
Well, not the first time I've gone out and bought used hardware but never this many things requiring this many trips to get everything. Luckily the first two were near eachother.
Scored an Asus P9X79e-WS board for $60 (has a burnt fuse for one of the USB headers, or firewire header. hard to tell. Board supposedly works fine and owner didn't notice it until after he removed it from the case once he bought new stuff. He had it listed for $100 so i used it as a chance to offer less since its functionality is brought into question).
Also an EVGA SLI3 x58 board for $80,
and another EVGA SLI x58 board for $80, this one with an i7-920 and 6gb DDR3 on it (3x 2gb sticks). I asked for it without the CPU but he threw it in anyways as a socket protector since he had no more use for it after selling this board lol.
Hoping to do some 6-core Xeon overclocking magic on these boards (though an 8 core E5-1680 v2 for the x79 board would be nice, but those are too damn expensive). Unsure what im going to do with all of them yet, short of building and testing, but im considering replacing my main mobo and cpu with the x79 board and e5-1650v2 if i can get a close enough overclock to it (my 3770k is at 4.7ghz right now). Working on something special for one of the x58 boards, and i think i might have my fiance's brother build his first PC with me (he has been wanting to and is highly interested in it) with the other x58 board. Would be cool!
Anyways, vlogged the process if y'all want to check it out. Funny thing, i watched one of Bitwit's vids some time ago and didn't realize we had lunch at the same place until afterwards (the SoCal TechTuber group are mostly local to me, like Paul, Bitwit, Jayztwocents, Austin Evans, etc). Pretty cool experience!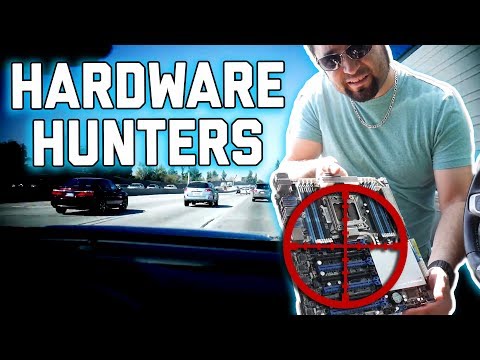 Helgaiden
Rig Specs:
Codename Red-Beast
//Xeon E5-1650v2 @ 4.5ghz//EVGA GTX 980ti SC+//16gb G.Skill ARES DDR3 1600//OCZ ModXstream Pro 700w PSU//Asus P9X79e-WS Mobo//Asus vg248qe 144hz 24" 1080p monitor//Deepcool Captain 240EX AIO on CPU//Corsair H55 + Kraken G10 on GPU//Deepcool Dukase v2 mid-tower case//
_________________________________________
https://www.youtube.com/user/CoalitionGamesCrew