Home
›
PC Builds
Hello Yes Men & Women! :)
We are moving EVERYTHING to a new much better community system so please go register, create your profile and let's build even better TYC community!
You can chat, sell, buy, advertise, create pages, groups, events, use forum and tons more!
URL:
https://techcity.tv/community/
P.S. We are still setting everything up so please bare with us!
P.P.S. Please go and REGISTER, you need to do it because we can't transfer you automatically, the differences between systems are huge so we all need to do it manually, it only takes a few seconds :)
~$200 Used Parts build! (HP Z400/Xeon)
CoalitionGaming
Posts: 283
Hey everyone! So i set out to build something to gift to my cousin for his birthday and tried to do my best with keeping performance somewhat high, but costs low. Had a spare Xeon w3550 i took out from the original Z400 build i did a long time ago (which got swapped with an x5687), so found me a deal on ebay for a complete Z400 system with a crappier CPU but 8gb ram, 250gb HDD, PSU, case, board, cooler, etc. Turns out you cant use the Z400 stock cooler without the backplate that you cant use if you transplant the system into another case, and the Deepcool Gammax 300 for $13 stepped in. However, if anyone builds in a Z400 as-is, then its a moot point. Threw in some other spare parts i had (128gb boot SSD, 500gb storage drive, LED strip, transplant case, a few extra ram sticks) but the basis of this build was the complete Z400 system for $100, a Xeon W3550 (like $7 on ebay), and a GTX 960 4gb ($100 local, used) and thats right about $200 and good to game!
Check it out and lemme know what y'all think!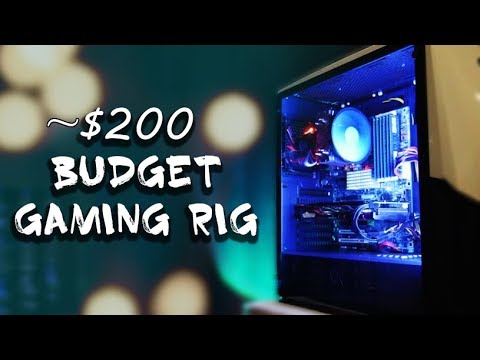 Helgaiden
Rig Specs:
Codename Red-Beast
//Xeon E5-1650v2 @ 4.5ghz//EVGA GTX 980ti SC+//16gb G.Skill ARES DDR3 1600//OCZ ModXstream Pro 700w PSU//Asus P9X79e-WS Mobo//Asus vg248qe 144hz 24" 1080p monitor//Deepcool Captain 240EX AIO on CPU//Corsair H55 + Kraken G10 on GPU//Deepcool Dukase v2 mid-tower case//
_________________________________________
https://www.youtube.com/user/CoalitionGamesCrew
Tagged: